Australian residents can deposit money into their Picklebet wallet via PayID in six steps:
1. Go to WALLET and select the Deposit with PayID tab.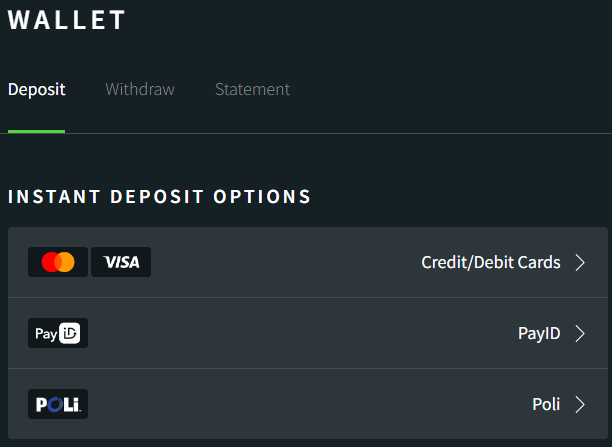 2. Click the START USING PAYID button. This will generate a unique email address.
3. Click COPY PAYID.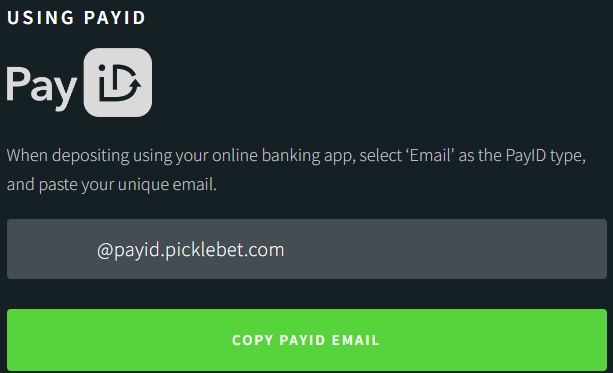 4. Open your online banking app, and select PayID as the payment option.
5. Paste the unique email address into the email field.
6. Enter a deposit amount, and follow the prompts, until your payment is confirmed.
When you return to Picklebet, your deposited funds will be visible in your wallet.
Please do not deposit more than your current deposit limit. Excess funds will be held and returned to your bank account.
Why Have I Not Been Credited My PayID Funds?
Although PayID transactions occur in near real-time, your first deposit may be delayed for up to 24 hours. This delay is a security measure that banks take to ensure both parties (sender and recipient) are legitimate.
If you send funds via PayID that exceed your current deposit limit, your funds will be held and returned to your bank account.
To change your deposit limit, select

PREFERENCES

in the sidebar, then click the

Responsible Gambling

tab or for more in depth information see the

Adjusting My Deposit Limits

help article.